EU trade commissioner Cecilia Malmstrom has said the US' decision to impose tariffs on steel and aluminium is "further weakening" relations between the two sides and risks undermining the global trading system as a whole.
Yesterday the White House confirmed that the EU's exemption on steel and aluminium imports would be lifted from midnight, along with those exempting Canada and Mexico after talks had failed to secure a deal.
Speaking this afternoon Malmstrom confirmed that the duties – 25 percent on steel and 10 percent on aluminium – had come into effect from 6am Brussels time.  This was "very unfortunate" because it would harm jobs in both the US and EU, and was "further weakening transatlantic relations".
"The EU wanted to avoid this situation," she added. "We have spent a lot of time, we have had numerous talks via different channels, to present a positive transatlantic trade agenda."
But the US was not willing to engage on that basis, she said, stressing that the only options on the table were to limit the EU's exports either on a voluntary or quota basis.
"We are not the cause of this oversupply," she added. "We have also suffered from dumping, which has been mainly caused by China."
As a result, the EU will today restart its appeal via the WTO, along with other affected countries. The bloc is also readying its "rebalancing measures" – tit-for-tat tariffs which are likely to hit iconic US goods such as Levi jeans and bourbon. The deadline for countermeasures to be deployed, after consultation with member states, is 20 June.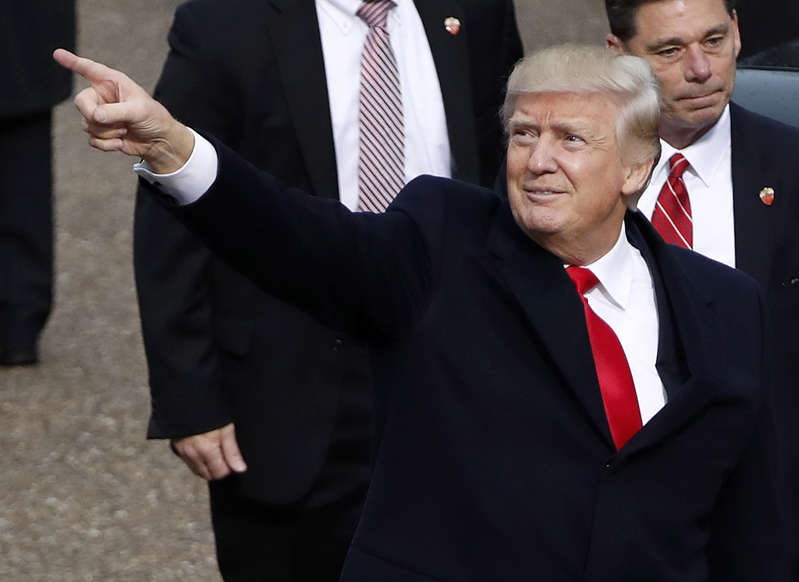 © AP President Donald Trump points during the 58th Presidential Inauguration parade for President Donald Trump in Washington. Friday, Jan. 20, 2017
Malmstrom, who is simultaneously launching legal action via the WTO against China over intellectual property infringements, said: "The WTO is not perfect but we have constructed it with allies including the US and we are expecting everyone to play by the rules.
"If players do not stick to rulebook, the system might collapse and that is why we are challenging both China and US."
She said the fact the EU was launching action against China "demonstrates we do not pick any sides".