Vladimir Putin says he has concerns about whether Yulia Skripal was forced to make a statement on Wednesday.
Dmitry Peskov, who speaks on behalf of the Russian president, said the Kremlin did not know whether the poisoned daughter of a Russian ex-spy made her statement under pressure or independently.
Yulia Skripal said in her video and written statement she felt lucky to have survived after being a victim of a nerve agent attack and that she would one day like to return home to Russia.
From a secret location in London and with a red scar visible on her neck, she described her sense of shock at the use of the nerve agent.
Mr Peskov, in a news conference called with reporters on Thursday, said there was a long list of questions that remained unanswered about Yulia Skripal.
"We still don't know what condition Yulia Skripal is in," he said. "We don't know if she made these statements of her own free will or if she was pressured, we don't know where she is… and what is being done to her and by whom, to what extent her rights are being upheld, and how legally competent she is."
Ms Skripal, 33, and her father Sergei, a former Russian double agent who now lives in the UK, were found frothing at the mouth on a bench in Salisbury on 4 March.
Both were in a coma for weeks before Yulia became the first to recover enough to leave the hospital.
Russia has repeatedly demanded consular access to Ms Skripal because she is a Russian citizen, saying the international law gives it the right to talk to its own nationals.
It has also spoken of its fears that she and her father are being held against their will by the British authorities.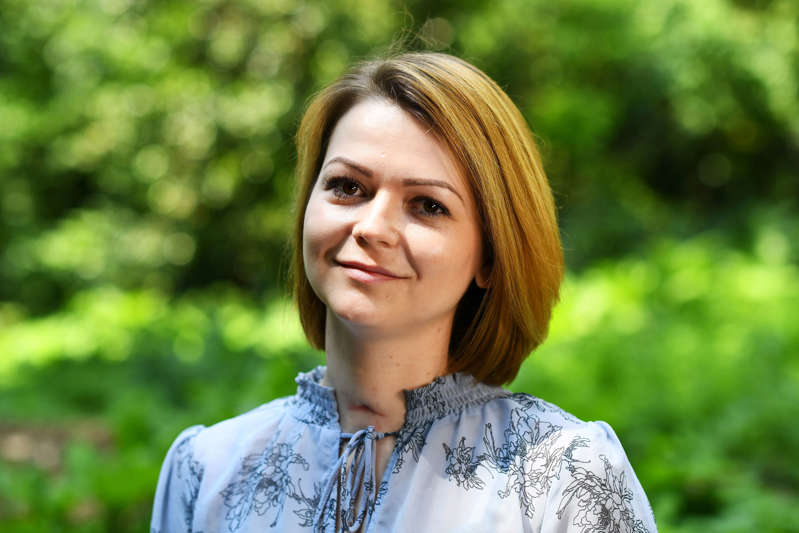 © Reuters Yulia Skripal, who was poisoned in Salisbury along with her father, Russian spy Sergei Skripal, speaks to Reuters in London, Britain, May 23, 2018. REUTERS/Dylan Martinez Addressing the requests for access by the Russian embassy, Ms Skripal said in her statement: "I'm grateful for the offers of assistance from the Russian embassy but at the moment I do not wish to avail myself of their services.
"Also, I want to reiterate what I said in my earlier statement that no one speaks for me, or for my father, but ourselves."
The UK has said that Russia is to blame for the attack on the pair, with the nerve agent Novichok suspected to have been placed on Mr Skripal's home door handle.
In her signed statement in her own hand, in both Russian and English, she described the attack on her as an "attempted assassination" and said she found it "difficult to come to terms with that both of us were attacked".
Mr Peskov added: "We have no grounds to trust this and to believe in it.
"Overall, considering we are talking about a fairly unprecedented international provocation against Russia that was unleashed by Britain and London, we maintain our distrust and have every reason to do so."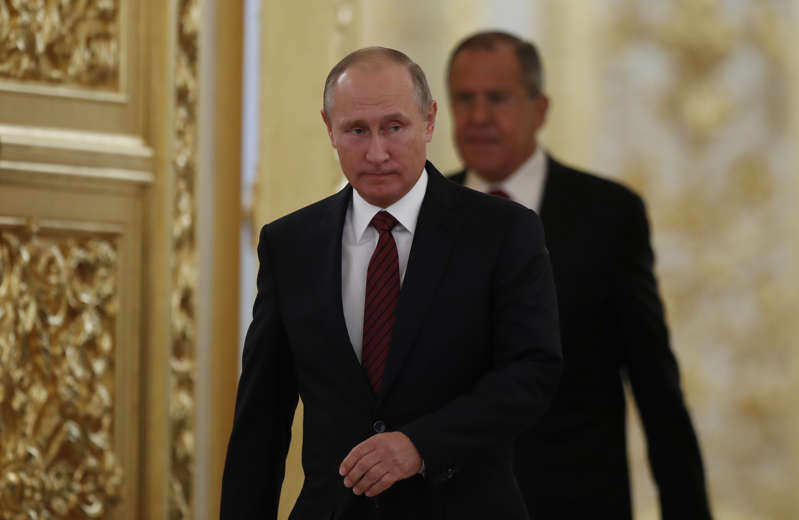 © Associated Press Russian President Vladimir Putin arrives for a ceremony of presentation of credentials in the Kremlin in Moscow, Russia, on Tuesday, Oct. 3, 2017. (AP Photo/Pavel Golovkin, pool) The Russian embassy was the first to question whether Yulia was speaking of her own free will on Wednesday night, but added in a tweet on Thursday: "The bottom line is that MI5 should expect better results from their translators –
for 32K/year they should be able to write statements which sound more Russian."
The cousin of Yulia Skripal was another to express doubts over the statement.
Viktoria Skripal said on Russian state television late on Wednesday that she appeared to be delivering a statement written by others.
"The text is learned by heart – I mean she doesn't speak emotionally, she says it very quickly," she said.
Viktoria also said she was happy that Yulia was "safe and sound".