Pyaare doston, Namaskar. Shalom. I used to think I was a big deal, and then I found out that Amitabh Bachchan has 30 million more Twitter followers than I do. And I added up the followings of all the other Bollywood stars who are here today and let's just say that you guys are a big deal. The reason for that is that the world loves Bollywood. And Israel loves Bollywood — I love Bollywood," Israeli Prime Minister Benjamin Netanyahu said to a hall full of actors and filmmakers gathered at the Taj Mahal Palace Hotel's Crystal Ballroom in Mumbai Thursday evening.
Prior to his visit to India to celebrate 25 years of diplomatic ties between India and Israel, Netanyahu's initiative to invite Bollywood to shoot films in Israel was well known and advertised. In December, a delegation from Bollywood, including filmmaker Imtiaz Ali, visited Israel on a trip organised by their foreign and culture ministries. And at Shalom Bollywood, an event organised to showcase Israeli locations to some of Bollywood's movers and shakers, Netanyahu spoke about "putting money where our mouth is".
© Getty Images
"Before PM Narendra Modi's historic visit to Israel, just two weeks before, we passed in the government several resolutions cementing ties with India. One of them was about film, and we put forward a modest sum of 4 million shekels to begin with. And by the way, gentlemen, congratulations, you used up not all of it, there's still some left. And I want to make a pledge tonight: if you come and you need more, we'll put in more. We want Bollywood in Israel," he said.
© Reuters
This was good news for the attendees and the media that endured security checks running longer than an average Bollywood film. Among the celebrities present at Shalom Bollywood were actors Amitabh Bachchan, Aishwarya Rai, Abhishek Bachchan, filmmakers Karan Johar, Imtiaz Ali, Abhishek Kapoor, Subhash Ghai — and Nikkhil Advani, who was addressed by Netanyahu in his speech.
"Nikhil, ever hear of Homeland, P.O.W? That's an Israeli format. I don't need to watch it, I live it, all the time," he said. Advani's 2016 award-winning TV show on Star, P.O.W, was an adaptation of Israeli series Hatufim; it also inspired HBO's Homeland.
© Reuters
Amitabh Bachchan, who grimaced when an enthusiastic announcer described him as the "Superstar of the Millennium", was one of the first celebrities to arrive on time. He delivered a short speech, highlighting the soft power of the Hindi film industry. "India produces more than 1,500 films every year — that's four times more than what Hollywood produces and twice as much that comes out of China. 1.36 billion tickets are what Hollywood sells. India sells approximately 2.6 billion tickets," said Bachchan. These figures are precisely why Israel's tourism ministry presented a video of places such as Haifa, Eilat, Masada and others, in addition to Jerusalem and Tel Aviv, and screened it immediately after the actor's speech.
© Getty Images
By setting aside funds for Bollywood productions, and handing out tax breaks, Israel is positioning itself as the next destination for an industry that possibly leads the world when it comes to set-jetting — the trend of travelling to destinations that are first seen in movies. Before he addressed the room, Netanyahu presented Johar and Apoorva Mehta of Dharma Productions with a memento to commemorate Bollywood's first outing in Israel. Johar's next production, Drive, directed by Tarun Mansukhani and starring Sushant Singh Rajput and Jacqueline Fernandez, features a song shot in Tel Aviv last year.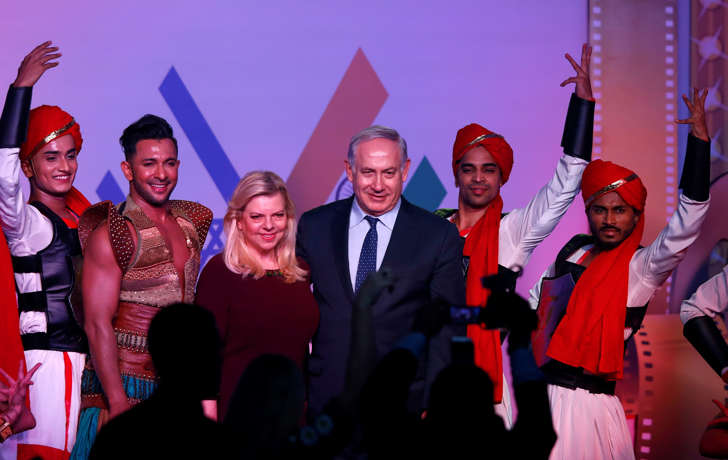 © Reuters
Social media was on Netanyahu's mind all evening. At the end of his speech, he invited Bachchan and the rest to come up on stage for a group selfie, inspired by the famous Oscar selfie in 2014. "Let's all tag this photo so that a hundred million people can see the great friendship between our two countries," he said. As the tallest celebrity in the room, it fell to Bachchan to take the picture.