The European Court of Justice is yet to rule on a case brought by a Romanian whose home country refused to give a residence permit to his US husband.
But the court's top adviser said the EU concept of "spouse" also included spouses of the same sex.
Same-sex marriage is not legal in Romania. The couple married in Belgium.
What is the case about?
Adrian Coman, a Romanian national, and Clai Hamilton, an American, married in Brussels in 2010.
EU law permits a non-EU spouse of an EU citizen to join his or her spouse in the member state where the European national resides.
But the Romanian authorities refused a request for a residence permit for Mr Hamilton, saying he could not be recognised as the spouse of an EU citizen because Romanian legislation prohibits marriages between same-sex couples.
The couple challenged the decision, saying it was discriminatory on the grounds of sexual orientation. Romania's constitutional court then referred the case to the European court (ECJ).
What is the advice?
ECJ Advocate General Melchior Wathelet said the term "spouse" included, under the freedom of residence of EU citizens and their family members, spouses of the same sex.
"Although member states are free to authorise marriage between persons of the same sex or not, they may not impede the freedom of residence of an EU citizen by refusing to grant his or her spouse of the same sex, a national of a non-EU country, a right of permanent residence in their territory," he said.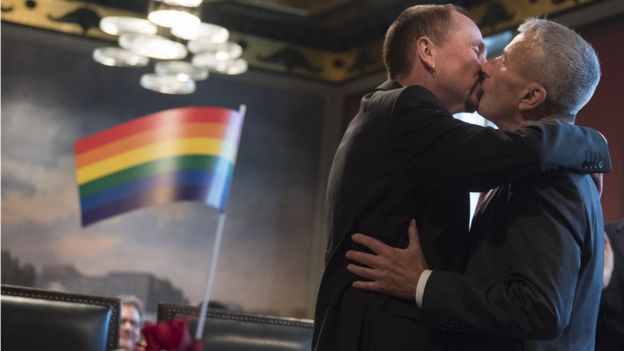 The EU directive on the issue, Mr Wathelet added, made no reference to member state law in order to determine the nature of "spouse".
He said the term referred to a "relationship based on marriage" and was neutral as to the sex of those involved and indifferent as to the place where that marriage was contracted.
What happens next?
The advice is not binding, but judges ruling on cases before the court have generally followed the advocate's lead. ECJ judges will now deliberate in the case.
The ECJ does not decide the dispute itself: the national court or tribunal will make its ruling following the court's decision.

Where does Europe stand on same-sex unions?
Same-sex marriage is legal in these EU states: Belgium, Denmark, Finland, France, Germany, Ireland, Luxembourg, Netherlands, Portugal, Spain, Sweden, UK (excluding Northern Ireland)
Registered partnerships (with similar rights to marriage): Austria, Croatia, Cyprus, Greece, Hungary, Italy, Malta, Slovenia
Registered partnership (limited rights): Czech Republic, Estonia
No legislation: Bulgaria, Latvia, Lithuania, Poland, Romania, Slovakia
Source: ILGA Europe