Around 235 people have been killed and dozens more injured after a suspected Islamic State bomb and gun attack on a mosque in Egypt.
The Egyptian Government has declared three days of mourning following the attack on al-Rawdah mosque, which has injured at least 130 people.
The mosque is in Bir al-Abed in the volatile northern Sinai Peninsula, around 25 miles from the provincial capital of el-Arish, which has been regularly targeted by IS militants in recent years.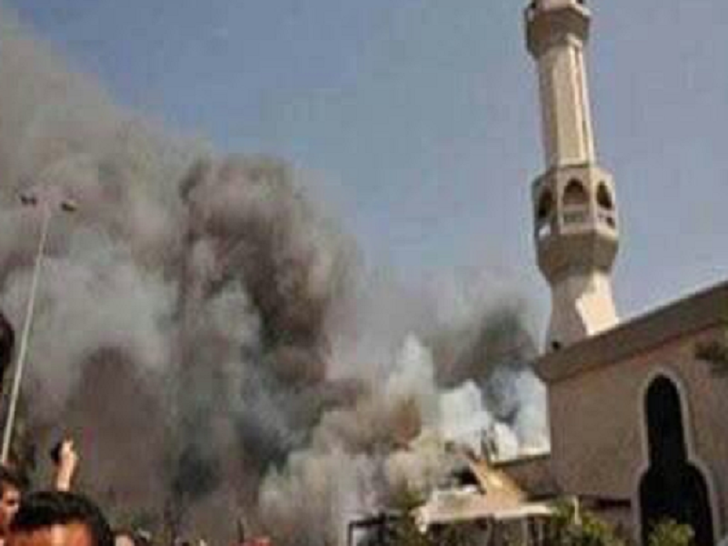 No group has yet claimed responsibility for the attack – which came as worshippers took part in weekly Friday prayers – but state news agency MENA reports that "appeared" to have been carried out by IS.
President Abdel Fattah al Sisi has called an emergency security meeting.
Officials said the militants arrived at the mosque in four off-road vehicles before detonating a bomb and opening fire, with ambulances then seen taking casualties to local hospitals.
"They were shooting at people as they left the mosque," a local resident whose relatives were at the scene told Reuters.
"They were shooting at the ambulances too."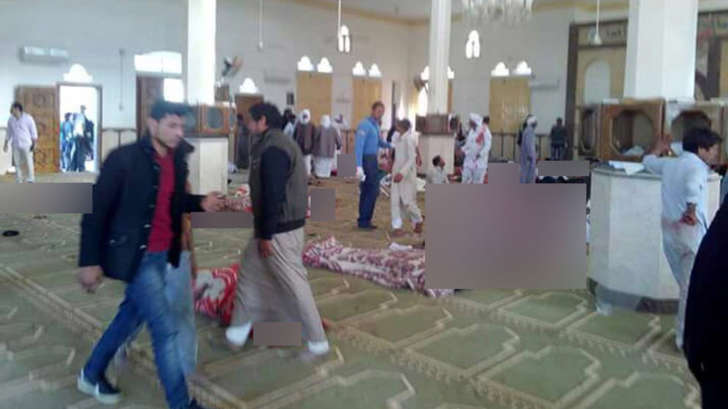 © Sky News Bodies of worshippers killed in attack on mosque in the northern city of Arish, Sinai, Egypt Police officers said the militants had tried to stop people from escaping from the area by blowing up cars and leaving the burning wrecks blocking the roads.
Cairo's international airport promptly boosted security following the attack, with troops seen patrolling passenger halls, conducting searches and manning checkpoints.
IS militants have killed hundreds of police and soldiers in the region since fighting intensified over the last three years, although they have mostly targeted Egypt's security forces.
They have also struck against Christian churches and pilgrims in the country and a bombing in October 2014 saw the Government declare a three-month state of emergency, but Friday's attack is the region's deadliest to date.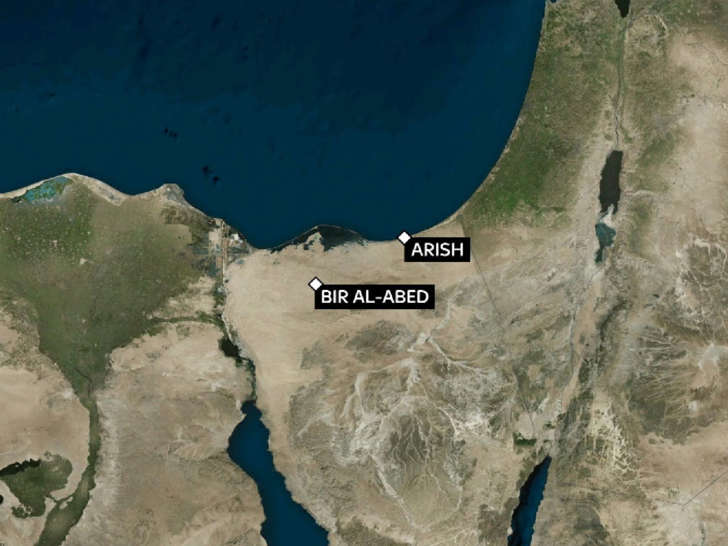 © Sky News The attack happened in Sinai
Middle East analyst Timothy Kaldas told Sky News that the military's "scorched Earth" approach towards eliminating IS did not appear to be working and described the scale of the attacks in the region as "unprecedented".
"The number of attacks has gone down slightly but the casualty figures have actually risen," he said.
"Not enough has been done to win over the local population to deny Isis safe haven recruits. There's been reports of abuse where captured militants have been executed by the military, so there's a lot of concerns that the way the Government is approaching things is actually increasing militancy rather than decreasing it."
The attack comes days after a deadly bombing on a mosque in Nigeria, which killed at least 50 people.